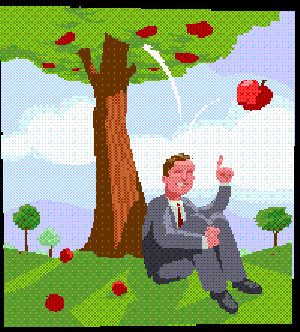 Many people accuse healers of pseudo-science, New Age hocus pocus or magical thinking.  And most of the time they are dead right.  So, what can we do to set ourselves apart? How can I make it clear that we are firmly grounded in reality? The answer is to build our healing work on a solid scientific foundation.
I can go further to say that the theory should do more than just "sound" scientific.  it has to make sense.  Every New Age course claims to be "backed by quantum physics."  A pity that real quantum physicists don't recognize any of it (good article here from NYT).
No, I think "based on science" has to mean a lot more than that.  It has to mean that I can explain HOW and WHY my method works.
Today I'd like to share at least some of those principles.
If you are reading this out of sequence, this is part 3 in the series of how to create an instant healing technique.  You can catch the prior article here.
Triune Brain model
The triune brain model has been part of RPT for 2 years already, so I won't summarize it here.  I've written about it here  and created an animated video explanation here.
If you have no idea about the Triune Brain model, you really should read those summaries before continuing.  If you know a lot about the Triune Brain model, you probably know that it isn't true.  It's just a model.  RPT isn't based on this model (it doesn't depend on it), but the model is extremely useful because it helps me to explain survival instincts.
Survival instincts
The new RPT is based on the principles of survival instincts.
Before I continue, I need you to do a brief exercise.  Trust me, it will help to understand this discussion.
Close your eyes (after reading the instructions!) and visualize that you are walking through the jungle on your own.  Suddenly you hear the roar of a tiger.  You realize that you are being hunted.  Though you cannot see the tiger, he can probably see you.  Try to visualize and feel into this experience.  Then put a hand on your gut.  Ask yourself, what is my "gut instinct" response?/em>
If you said "freeze" or "hide" you are in the majority.  Other common responses are "fight" or run away (often called the "fight or flight" response).
Despite our large and powerful human brains, we are all largely driven by instincts.  This is what we take from the triune brain model.  Neuroscience shows (e.g. through functional MRI scans) that we make decisions, be they what to buy, who to date, what I do and don't like, based on instincts.  The funny thing is that we think we are being rational, but the fMRI shows that the instinctual part of the brain (called the Reptilian Brain in the triune brain mode) kicks in first.  The reasoning mind (the neo-cortex) kicks in to make up an explanation only after the decision has been made.
As an example, neuro-marketing is the "science" of making people buy things by bypassing their rational minds and appealing to their instincts.  For more information see here, here and here.
So in very short, survival instincts are our response to trauma.  The four main ones are: freeze, hide, fight or flight (run away).
How knowing your instincts can clear trauma
Here's a basic summary of how I think it works:
You experience some trauma (e.g. physical abuse, a car accident, or emotional pain);
your body responds to this by going into one of your instinctive responses;
the threat goes away (you survive);
on some level you are stuck in the instinct, meaning a part of you is still trying to freeze, hide, run or fight;
it is this "stuck" instinct that creates what we call trauma.  If you weren't stuck in it, the experience would quickly pass, you wouldn't think about it again, it would not be a trauma.
For a year or so I was figuring this out for myself, and taught the rough basics of it in Moscow in May 2011.  That's what I was really fortunate to discover that this is not new.  In fact the relationship between instincts and trauma is well established in psychology and forms the basis for several healing techniques already.
For those interested in learning more, the two best books on this subject are:
Waking the Tiger: Healing Trauma: The Innate Capacity to Transform Overwhelming Experiences by Peter A. Levine /li>
The Body Bears the Burden: Trauma, Dissociation, and Disease by Robert C. Scaer
If you want, you can purchase either of these great books through my Amazon affiliate links here.  They are worth reading if you want to further explore the relationship between instincts and trauma and how clearing the instinct clears the trauma.
Applying this theory
As I said, the underlying theory is well established.  There are already healing techniques that are based on Scaer and Levine's work.  These include conversational (counseling); physical (body work) or energetic (EFT/TFT) techniques.
The problem is that these techniques are painfully slow.  They require multiple sessions and don't provide instant results.
What we did different was to marry two different elements together:
the survival instinct theory; and
our old RPT techniques of "acknowledgment" and "coherence."
Followers of my blog will know that I started writing about acknowledgment in 2009.  I believe that the only reason that any healing techniques work (when they sometimes do) is because they acknowledge the underlying causes of our problem.  Being acknowledged is a basic human need, and most of our symptoms relate to an unconscious desire for acknowledgment.  (This is especially obvious with children and animals.)
Coherence is something I wrote about a great deal in 2010.  In short, we have many centers of awareness.  Usually they are not connected, meaning we can think X, feel Y and have an instinct to do Z.  EG: "I think I should marry Tom, I love Richard but I would be safest with Harry."  But when your minds are in coherence, there is just one voice, and a clear answer to your questions and decisions.
Putting it all together
The new RPT 2012 technique is in fact quite simple.  This is it:
find the instinct that is holding the trauma in place;
be coherent – bring your head, heart and gut into alignment;
acknowledge it from that place of coherence.
When you acknowledge an instinct in this way, it "resets" itself.  For instance if you are stuck in fight or flight mode and you acknowledge it coherently, it instantly switches off.
Symptoms that were caused by this instinct (physical, emotional or spiritual) will then disappear, often instantly.
Well my dear friends, that is the basic outline of our new technique.  We've taken 3 vital components, the spiritual (coherence), the mental (survival theory) and the practical (acknowledgment).  Combining these three has given us the most powerful yet simple technique we have come across.
Want to know more?  I hope so.  I'll be sharing more on this blog over the coming weeks and months as we move towards the official launch of the new website and books.
Almost all RPT teachers have now upgraded to the new training.  Courses in the new RPT are listed on our website here, and the chances are there's one near you.  We are also looking for promoters for our new work.  Promoters get to do the course for free and are paid a percentage of the course fee.  If you are interested in promoting the new RPT in your area, please contact us here.
I look forward to reading your comments or questions here.
Blessings
Simon